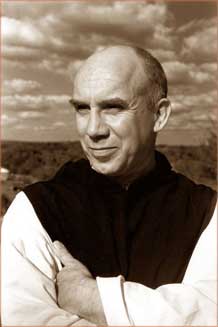 Silent Lamp, is a two-hour feature documentary on the world-renowned mystic and Trappist monk, Thomas Merton, and his views on contemplative life. The intention of the documentary is to bring attention to the spiritual resources that Merton discovered in the solitude of contemplation and to communicate the potential of these resources to act as antidotes to the violence and degradation that is so prevalent in modern societies.
Ten scripted essays based on an synthesis of Merton's writings, archival images, interviews with scholars and associates, Merton's poetry and prerecorded music, will be woven into a tapestry of visual metaphor and realism, inviting the viewer to explore through imagination, intuition, emotion and thought, Merton's most universally celebrated insights and direct experiences of contemplation. There is a particular emphasis on the ways in which the contemplative's life and consciousness are integrated and concerned with politics, social and economic justice, civil rights, war, and world peace.
Given the rising popularity of documentaries in the mainstream, Silent Lamp potentially can be viewed in several venues. These include film festivals, educational venues, limited theatrical engagements in key cities (San Francisco, New York, Chicago, Austin, Louisville) and broadcast television (PBS). A preliminary plan is being considered to distribute the documentary throughout educational communities, special interest groups in spiritual direction, meditation and theology, and to pre-selected communities to initiate dialogue about the important issues contained in the film.
A timeline is presented to highlight the activities and objectives that have been projected for the pre-production, production, post-production and distribution phases of the project.
A complete proposal of Silent Lamp was submitted to the Merton Legacy Trust Board of Directors in October, 2004. After reviewing the proposal the Board granted permission for the Merton Center's archives to be accessed, thereby making it possible for production to begin.