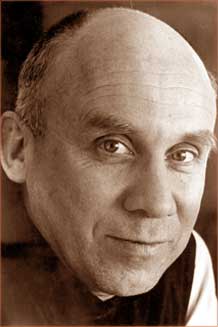 Who will profit from viewing a film on Merton's views about contemplative life? The answer can be found in the allure that people experience when they recognize and acknowledge that the fruits of contemplation bring a joy and fulfillment that can never be harvested in a life of acquiring material riches. Merton has expressed unequivocally that contemplative life, with its emphasis on solitude, silence and surrender, can act as an antidote to the unbridled narcissism and passions of the self that lives a life of alienation and inauthenticity. As with other periods in human history, our modern world is teetering on an abyss of reckless self-destruction manifesting in the daily occurrences of war, genocide, sexual violence, social injustices, racism and economic inequality. The voice of the contemplative is in the minority, overshadowed by the relentless bombardment of empty commercialism. Merton's message is that an alternative exists and people must awaken to the mystery of what is lying dormant in their hearts as their core identity.
What are the characteristics of the audiences projected to see Silent Lamp? Given the content of the documentary the primary viewers will have an affinity for spiritually based issues. Closely tied to this will be the viewer who seeks to explore or find validation in more meaningful and substantive themes such as those presented in Silent Lamp. Spiritually oriented film festivals such as The Spiritual Film Festival and the International Buddhist Film Festival are beginning to attract a diversity of audiences even within their own genre, whether it be independent or more mainstream theatrical venues. Take for instance the recently successful films: What the Bleep…, I Huckabees, The Road to Nirvana, Samsara, Baraka. Some of the common characteristics of audiences attending these films would include viewers with an interest in 1) intellectual and/or aesthetic issues, 2) human rights; racial and economic justice, 3) human potential 4) nature and deep ecology, 4) global politics and world peace. Finally, there are those viewers who are jaded with commercial cinema and who wish to be more inclusive in their choice of genre.
To summarize, the basic thrust of this video is to educate and bring into viewer awareness the fundamental facts about the nature of contemplation and the implications for adopting a worldview that is aligned with contemplative experience.
Preliminary Distribution Plan:
The nature of Silent Lamp suggests that this work can attract a broad spectrum of potential audiences. There are a number of distribution strategies that are being considered to optimize selected audience exposure to Silent Lamp. The following examples are presented as potential venues.
Film Festivals: As previously mentioned, spiritually oriented film festivals are becoming increasingly prevalent and will be given priority in the entry application process. More traditional A & B listed independent film festivals that support documentary filmmaking will also be applied to. Silent Lamp's reception from festival organizers will help to determine future distribution strategies. Personal attendance at festivals will promote further outreach as well as the distribution of promotional materials, a chance to answer audience questions, make further contacts and meet filmmakers who are doing similar work. Festivals, besides being an ideal forum for networking, can lead to the discovery of other potential distributors.
The following list of Film Festivals has potential promise as venues for entering and showing Silent Lamp. Each of the festivals listed were chosen based on a number of criteria: 1) receptivity to independent filmmakers, 2) support of documentary genre, 3) openness to spiritually oriented content, 4) films with international appeal.
The Spiritual Film Festival
International Buddhist FF
Independent FF
The Brooklyn Underground FF
Memphis International FF
Woodstock FF
Newport Beach FF
HatH audiovisual Arts Festival
Himalaya FF
Damah FF
One Country FF
Toronto FF
Rehoboth Beach Film Society
Cucalorus Festival of Independent Film
Off,off,off
San Francisco FF
San Francisco Film Arts Festival
Ashland Independent FF
Berkeley Video & Film Festival
Asheville FF
Blue Sky Independent FF
Chicago International Documentary FF
Full Frame Documentary FF,
Global Visions FF
New York International Documentary Festival
One World International Human Rights FF
Shadow Documentary FF
Telluride Indie Festival
US International Film and Video Festival
Vision FF
Waterfront FF
Thessaloniki FF
DC Independent FF
DER Documentary
Ojai FF
Television: the richness of Merton's language and the aesthetic use of images and music make this an ideal video for programming on any of the Public Broadcast Stations and/or cable stations such as HBO, Bravo and Showtime. In this case every attempt will be made to utilize a production team with prior PBS/television experience. Consideration for television would necessitate Silent Lamp's length is divided into two-one hour segments.
Educational: distribution to libraries. University departments of religious education, theology, pastoral counseling, comparative religion and spiritual direction programs. Because Silent Lamp's central focus is on the expeience of contemplation, it can both provoke vicarious, experiential learning while acting as an educational medium. This can be advantageous to those in religious training whose primary means of obtaining knowledge about contemplation is through texts. Silent Lamp's treatment of important human existential issues makes it ideal for applied training and classroom instruction in pastoral care, especially thanotology.
Silent Lamp will also target special interest groups associated with meditation, contemplation, mysticism and prayer. Additional special interest distribution strategies would include showing the film to pre-selected communities to initiate and promote dialogue about the important issues contained in the film.
It is conceivable that Silent Lamp could be introduced in high school curricula that include religious or spiritual education.
Theatrical: the most recent rise in popularity of the documentary genre along with the success of films like, "What the Bleep…" and the now dated but classic "My Dinner with Andre" demonstrate that there are audiences that actively seek films that deal with substantive philosophical and spiritually based content. The appeal of this genre of film correlates directly with the popularity of Merton's books, which is, making a connection with what "ultimately" matters most in the spiritual make up of each and every individual and the world.